Luxurious Carpet in Sarasota, FL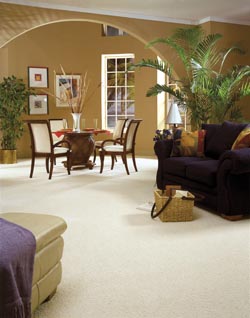 Upgrade your property with a soft and plush new floor when you choose our stunning carpet in Sarasota, FL. At G. Fried Flooring America, we offer a variety of unique carpeting options for your business or home. No matter what interior design you are trying to achieve, we have the ideal flooring solution to match.
At our store, we also provide complete installation services to ensure your new carpeted surface looks fantastic in your home or office. This way, you know that your carpet installation is completed correctly by our team of professional and experienced installers.
Unmatched Comfort for Your Home
When it comes to creating a relaxed atmosphere in your home, there is no better way than using carpeted surfaces. Soft underfoot, carpeting is very comfortable to walk on, and it creates a safe space for children to play.
Additionally, carpeted surfaces are excellent at lowering noise levels throughout your property, whether from a conversation in the next room or someone walking down the hall. This makes carpet the perfect option for bedrooms where the reduced noise will help make sleep easier.
Furthermore, newer styles of carpeting are effortless to maintain. Modern materials make cleaning up spills a breeze, and with vacuuming, you will keep your home allergen and dust-free. To learn more about why you should use carpeting in your home, visit our carpet store. We are always prepared to answer your questions and give you any assistance you need.
Soft Commercial Flooring
Choosing the right type of flooring for your business can often be quite difficult. However, with the assistance of our staff of experts, we will help you find the ideal new surfaces for your property.
If you own an office or daycare facility, then we would highly recommend the use of carpet. Carpeted surfaces in an office building help to reduce ambient noise while also giving your employees a more comfortable area to move around on. Additionally, the fibers used in commercial carpeting help trap dust and dirt, preventing them from becoming airborne and affecting your clients and customers.
There are many patterns and styles available with our commercial carpet options, so you will have no trouble matching your floors with your current office décor. Visit our showroom to explore our carpeting options and let our flooring experts help you find the perfect flooring solutions for your business.


Contact us to learn more about the carpeting we have available for your home or office. We proudly serve Sarasota, FL, and the surrounding areas.