Luxury Vinyl Tile in Sarasota, FL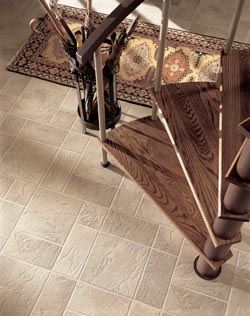 Make the transformation you want in your home with the addition of resilient flooring to your space. You don't have to settle for your old, aging flooring when we offer a solution that mimics the look of hardwoods and natural stones. Visit our showroom to peruse our stunning collections of luxury vinyl tile. This is the perfect material for people living in a humid climate that also experiences a lot of rain. With so many options available at our reputable store, you are sure to find the LVT that best suits your needs in looks, performance, and price.


Benefits of Adding Resilient Flooring to Your Home
Do you have young children, pets, and more? Do you want to be the go-to home for family and friends to gather? Keep the floors at home in good condition without any problems by investing in sensible and stylish luxury vinyl floor tile or luxury plank flooring. The benefits of choosing this flooring for your home include:
The Unlimited Amount of Styles and Designs
Less Wear and Tear than Other Flooring Materials
Improved Flexibility and Design
Scratch Resistance against Children and Pets
Spill and Stain Resistance
No Expanding or Contracting Due to Weather Conditions
A Customized Surface Printed to Look Authentic
No Imperfections, Cracks, or Crevices
Printed Size and Style to Meet All Design Preferences
Improved Air Quality for Allergy Sufferers
Strength and Durability in High Traffic Areas
Sound Absorption That Doesn't Go Throughout the House
Affordability Compared to Other Flooring Styles


Luxury Vinyl Floor Tile for Your Office
Many residential clients come to our location yet we also welcome commercial clients to visit our showroom. Our company has nationwide buying power and can pool resources to get your flooring to you as quickly as possible. In cases where a large amount of square footage is set to be refloored, we can accommodate you. We are happy to provide you with solutions that fit the needs of your business. For example, a luxury vinyl tile installation will give you the look of tile for your bathrooms while luxury plank flooring could serve its purpose in your company's entryway. These small details reflect positively on the condition of your business.
Commercial clients also come to us because we are a one-stop shop for those looking for a purchase and installation all in one location. We are happy to schedule your install at your convenience. Expect quality from us at all stages of your purchase, whether it is selecting the right floor tile or laying the final piece of your newly installed floors.


Get the Look of Hardwood with Luxury Plank Flooring
When your lifestyle demands or your budget prohibits you from getting hardwood flooring, the right option just might be luxury plank flooring. Because of its unique printed layer, this style of flooring is the perfect solution for people that want the look of hardwood without the responsibilities that come with it. If you don't know where to start, our sales professionals can help you navigate the showroom and narrow down your options.


When you are ready for a much-needed home update, contact us concerning luxury vinyl tile for your home. We are proud to serve clients in Sarasota, Longboat Key, Siesta Key, St. Armand's Key, and Lakewood Ranch, FL, as well as the surrounding communities.