Porcelain Tile in Sarasota, FL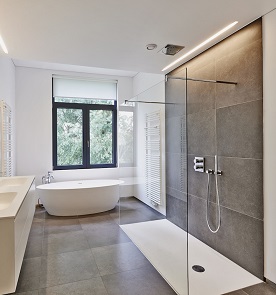 Are you worried about the humidity of Florida causing damage to your flooring? Do you want to make a flooring design decision that fits your indoor/outdoor lifestyle? Host pool parties, cook for family and friends, and never worry about dirt or sand in your home when you add porcelain tile flooring to your home. Our flooring showroom is stocked with numerous colors, sizes, and patterns for you to peruse. Let our sales professionals help you eliminate what doesn't work for you stylistically, work through approximate pricing, and move toward the decision that best suits your preferences. Visit our showroom today for the most outstanding collections of porcelain tile in the area.


Design-Friendly Porcelain Tile Flooring
Your imagination is the limit when your flooring selection is porcelain tile flooring. This material is available in a number of styles. You can get porcelain that looks like gray woods or in textures that resemble slate or other natural stones. Whether you prefer light and bright tones or deep, dark shades, porcelain tile can give you the look you want to achieve in every room.
In fact, we regularly complete installation of various porcelain tile options throughout a home. You can have one color in the bathroom with a completely different shade in your entryway. Some of the porcelain tile brands we offer include Floorcraft and Star Values.


Professional Porcelain Tile Installation
Booking an installation service with us for your porcelain tile floors gives quality work that will last. One of the main benefits of adding tile is that you won't have to worry about new flooring for a considerable amount of time. We use grout to match your color preferences and pay meticulous attention to making sure spacing and cuts are even. Porcelain tile installation is difficult to work that should be left to the professionals with the right tools and expertise to add your floors without any complications.


The Benefits of Porcelain Floor Tile
Look no further than porcelain tile floors if you want low-maintenance floors that take a minimal amount of time to keep clean. We listen to your expectations and make sure you understand what the exact care routine with this product will entail. Compared to some flooring styles, this option requires minimal maintenance. Some of the benefits of selecting porcelain flooring include:
Resistance to Wear Caused By Pets and Children
Strength to Withstand Heavy Traffic
Moisture Resistance for Pool Bathrooms and Entryways
Sizing and Style Options for Every Style Preference
Looking Like All Types of Stones and Naturally Occurred Materials
Scratch Resistance for Homes with Pets
Resistance to Stain and Liquid Penetration
Ease of Replacement If One Tile Cracks or Breaks
Heat Resistance


Book a Consultation with Our Sales Team
If you don't know where to start in the selection of your new home flooring, we encourage you to book a consultation with us. Our team of professionals is proud to offer consultations that can be scheduled at your convenience. Reach out to us for assistance when you don't know where to start in selecting your new porcelain tile flooring.


Don't wait to schedule an appointment with us to learn more about porcelain tile installation. Contact us to book a free in-home estimate with a sales professional. We are proud to serve clients in Sarasota, Longboat Key, Siesta Key, St. Armand's Key, and Lakewood Ranch, FL, as well as the surrounding communities.